Annotate Documents in a PHP Application
Add Platform Independent, Multi-format Document & Image Annotation Functionality to your own Applications.
Start Free Trial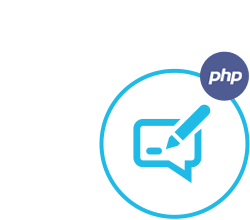 GroupDocs.Annotation Cloud SDK for PHP
GroupDocs.Annotation Cloud is a REST API and universal document annotator that supports almost all common business document and image file formats including PDF, Microsoft Word, Excel, PowerPoint, raster images and many more. To use the features of the API in an easy and efficient manner in your PHP application without going into the underlying details of handling the HTTP requests and responses, we have developed the SDK for PHP, which is not only easy to incorporate but can also be customized to suit your needs.
Platform Independence
If you do not want to use any of our SDKs or the required SDK is not available at the moment,yo u can still easily get started with GroupDocs.Annotation Cloud REST API while using your favorite language & platform.

SDK Requirements
SDK requires only PHP and can run on any platform where this requirement can be met.

Supported File Formats
GroupDocs.Annotation Cloud supports a number of document formats including almost all common business document and image file formats.
Word: DOC, DOCX, DOCM, DOT, DOTX, DOTM, RTF
Excel: XLS, XLSX
PowerPoint: PPT, PPTX, PPSX
Visio: VSD, VDX, VSS, VSX, VTX, VSDX, VSSX, VSDM, VSTM, VSSM
Outlook: EML, EMLX, MSG
OpenDocument: ODT, OTT, ODP, OTP
Fixed Layout: PDF
Image Files: BMP, PNG, JPG, JPEG, TIFF, TIF, GIF
Web: MHTML
Text: TXT

Previous
Next
Advanced Document Annotation REST API Features
Multiple file formats support
Cross-platform compatibility
Export or import annotations
A robust set of annotation tools
Quick & Reliable Document Annotation
GroupDocs.Annotation Cloud API provides a number of ways to deal with annotations. It not only allows retrieving annotations from documents, but also adds(exports) or remove annotations from a document and retrieves the resultant document as the stream.
Remove document annotations - PHP
//Get your AppSID and AppKey at https://dashboard.groupdocs.cloud (free registration is required).
$configuration = new Configuration();
$configuration->setAppSid($sid);
$configuration->setAppKey($key);
$annotationApi = new AnnotationApi($configuration);
$request = new Requests\DeleteCleanDocumentRequest("template.pdf","SourceFiles");
$response = $annotationApi->deleteCleanDocument($request);

Robust Set of Annotation Tools
Text annotations:
Text annotation – add comments to selected text.
Text replacement – highlight which text should be replaced with what.
Text redaction – hide confidential text.
Strikeout/underline – highlight text with strikethroughs/underlines.
Typewriter – add sticky notes with rich text.
Figure annotations:
Area annotation – add notes to an area highlighted with a rectangle.
Point annotation – add notes to any point in the document.
Area redaction – hide confidential parts of an image or text.
Polyline – draw freehand lines and shapes.
Pointer/arrow – drop arrows pointing to an object.
Watermark – create text-based watermark overlays.
Distance – measure the distance between any objects in a document.
Easy Integration
It is easy to integrate GroupDocs.Annotation Cloud into your apps, as there is nothing to install on the server or client-side. Simply create an account at GroupDocs Cloud and get your application information. Once you have the App SID & key, you are ready to give the GroupDocs.Annotation Cloud REST API a try, and can annotate a multitude of document formats with simple API calls.
Convenient to Use
GroupDocs.Annotation Cloud API is completely independent of your operating system, database system or development language. You can use any language or platform that supports HTTP to interact with our API. However, manually writing client code can be difficult, error-prone and time-consuming. Therefore, we have provided and supported API SDKs in many development languages in order to make it easier to integrate with us. If you use the SDK, it hides the REST API calls and lets you use the features of the API in a native way for your preferred language.
Support and Learning Resources
GroupDocs.Annotation Cloud Product Family also includes SDKs for other popular languages as listed below: